How our Law Firm is Celebrating the 50th Anniversary of Earth Day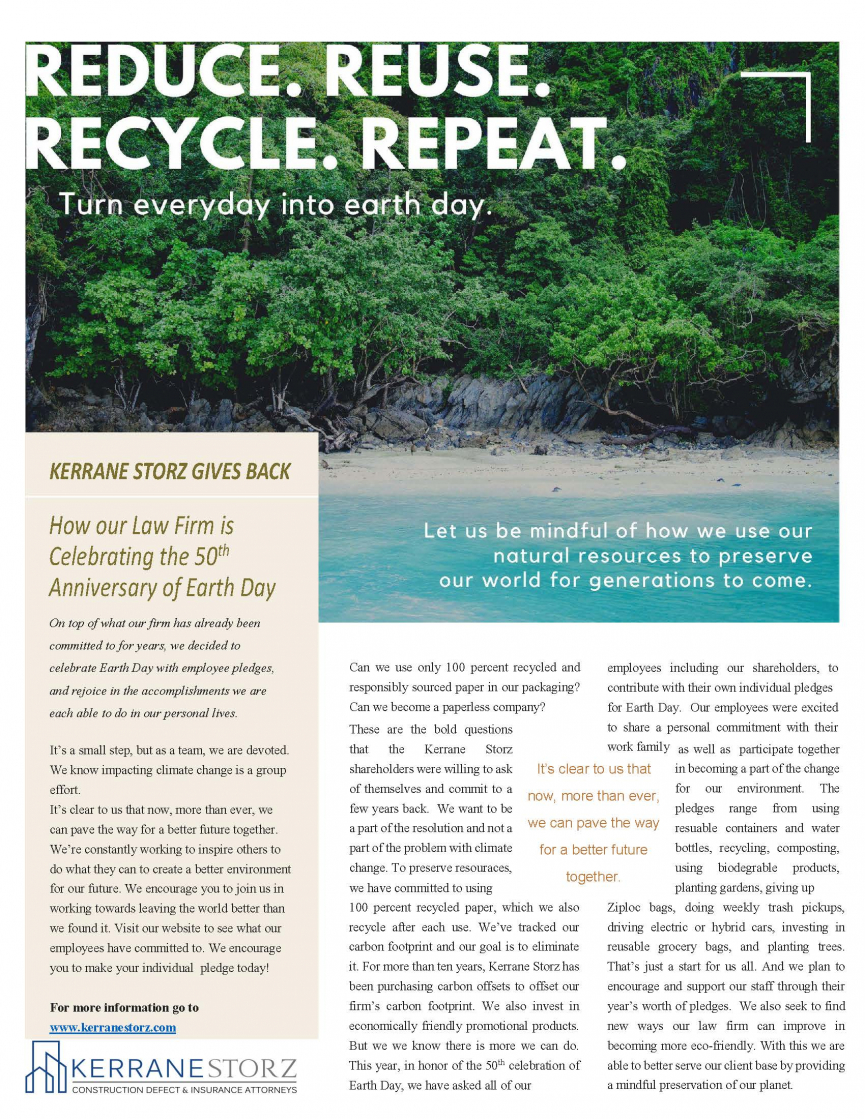 On top of what our firm has already been committed to for years, we decided to celebrate Earth Day with employee pledges, and rejoice in the accomplishments we are each able to do in our personal lives.
It's a small step, but as a team, we are devoted. We know impacting climate change is a group effort.
It's clear to us that now, more than ever, we can pave the way for a better future together. We're constantly working to inspire others to do what they can to create a better environment for our future. We encourage you to join us in working towards leaving the world better than we found it. Visit our website to see what our employees have committed to. We encourage you to make your individual pledge today!
Can we use only 100 percent recycled and responsibly sourced paper in our packaging? Can we become a paperless company? These are the bold questions that the Kerrane Storz shareholders were willing to ask of themselves and commit to a few years back. We want to be a part of the resolution and not a part of the problem with climate change. To preserve resources, we have committed to using 100 percent recycled paper, which we also recycle after each use. We've tracked our carbon footprint and our goal is to eliminate it. For more than ten years, Kerrane Storz has been purchasing carbon offsets to offset our firm's carbon footprint. We also invest in economically friendly promotional products. But we know there is more we can do. This year, in honor of the 50th celebration of Earth Day, we have asked all of our employees including our shareholders, to contribute with their own individual pledges for Earth Day. Our employees were excited to share a personal commitment with their work-family as well as participate together in becoming a part of the change for our environment. The pledges range from using reusable containers and water bottles, recycling, composting, using biodegradable products, planting gardens, giving up Ziploc bags, doing weekly trash pickups, driving electric or hybrid cars, investing in reusable grocery bags, and planting trees. That's just a start for us all. And we plan to encourage and support our staff through their years' worth of pledges. We also seek to find new ways our law firm can improve in becoming more eco-friendly. With this, we are able to better serve our client base by providing mindful preservation of our planet.
Reduce. Reuse. Recycle. Repeat. Turn every day into earth day.